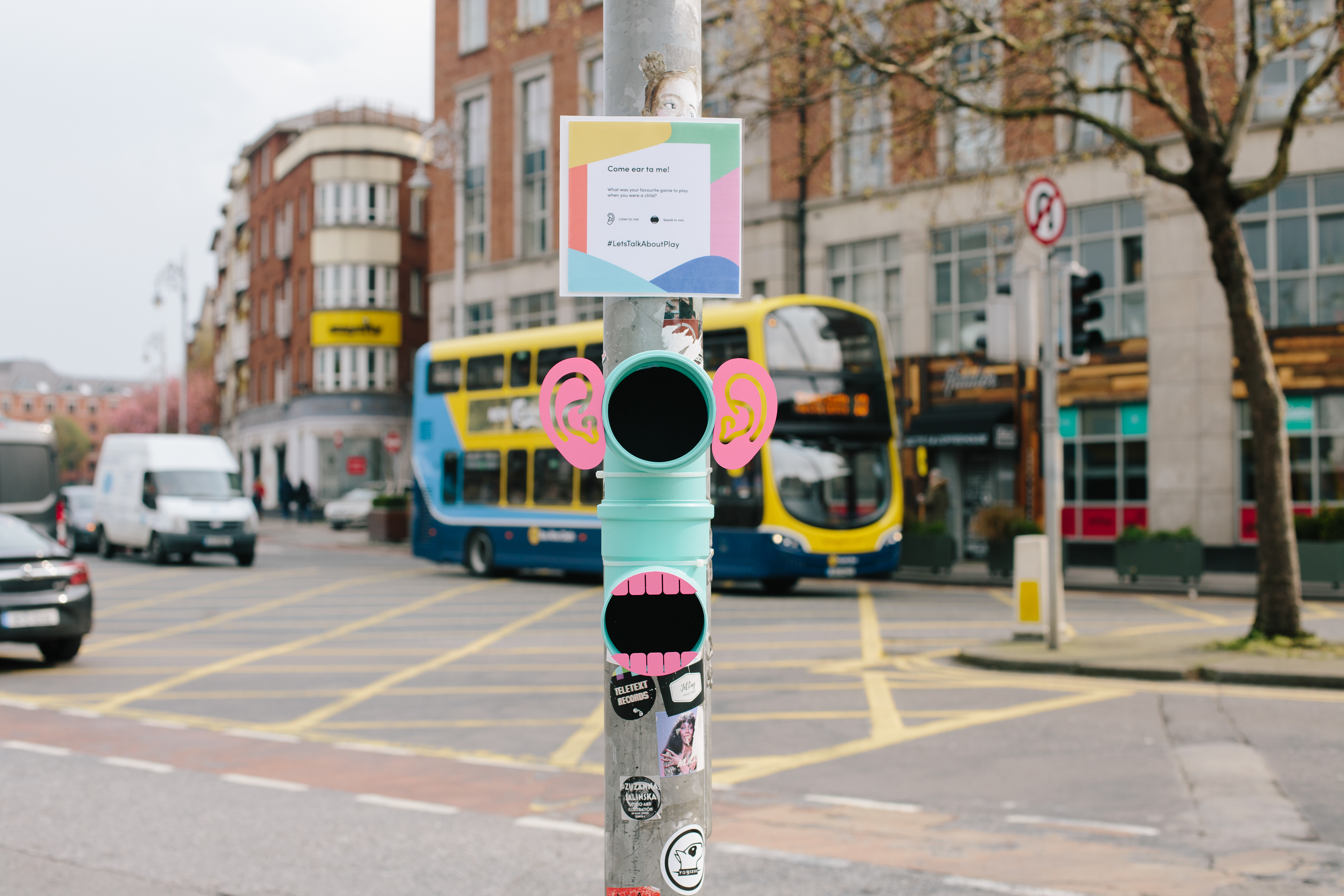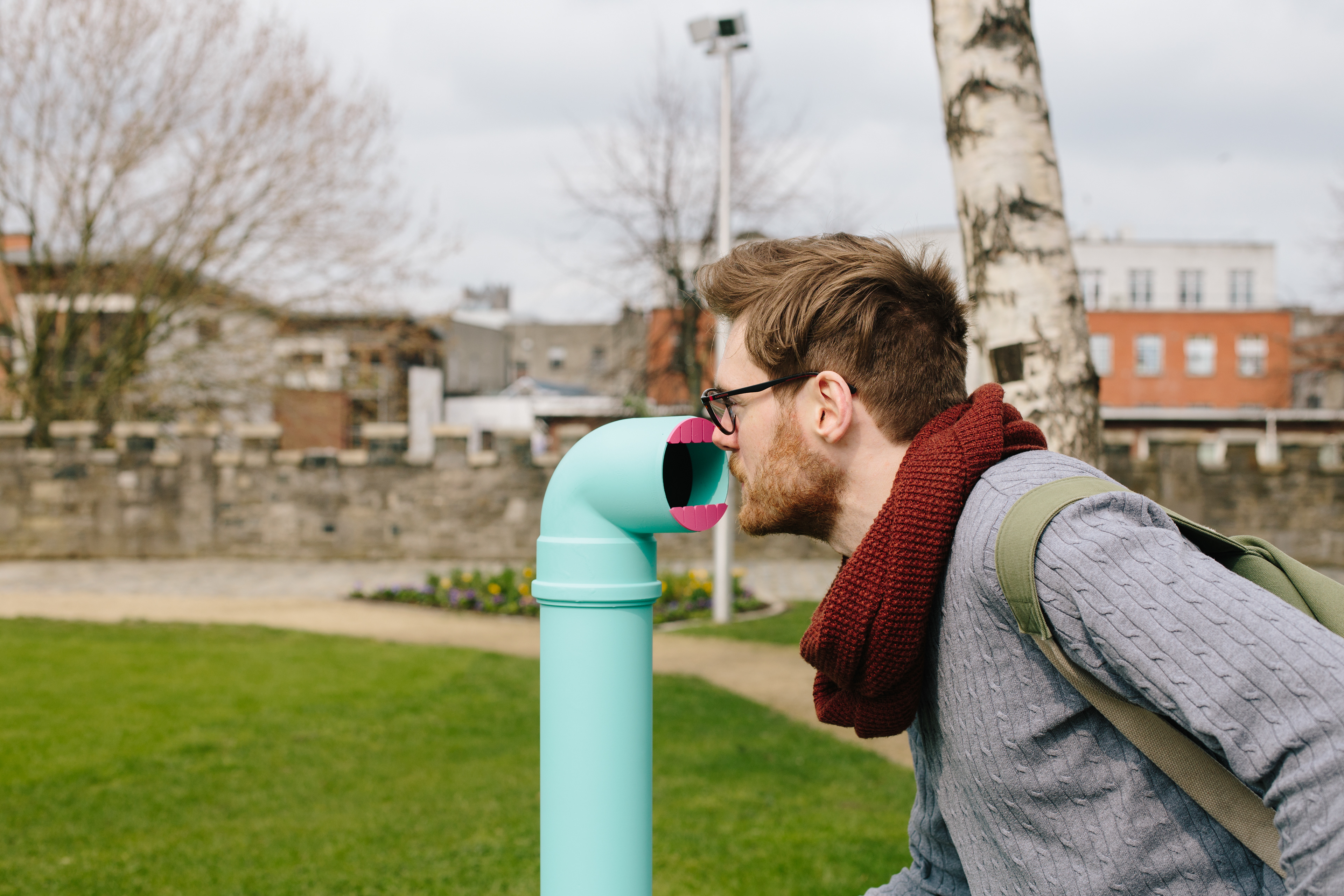 The starting point for this brief was to consider the ways in which A Playful City currently engages and consults with children, young people, and adults on their vision for the future design of public spaces in the city. Specifically, the project began by considering A Playful City's unique, mobile, pop-up consultation device, The Spiel Mobile, designed with Sean Harrington Architects. The playful mobile interactive

installation

has been designed to gather insights from the community which are then analysed and used to develop and implement a playful intervention with and for the local community. The Spiel Mobile has been designed to make consultation more meaningful and playful and to allow people of all ages to give their ideas and opinions on how play can transform the spaces in their communities. In this project we were asked to question, consider and re-imagine the consultation process utilized by A Playful City.
At a Glance
Here is an overview of the tools and processes I followed throughout this project.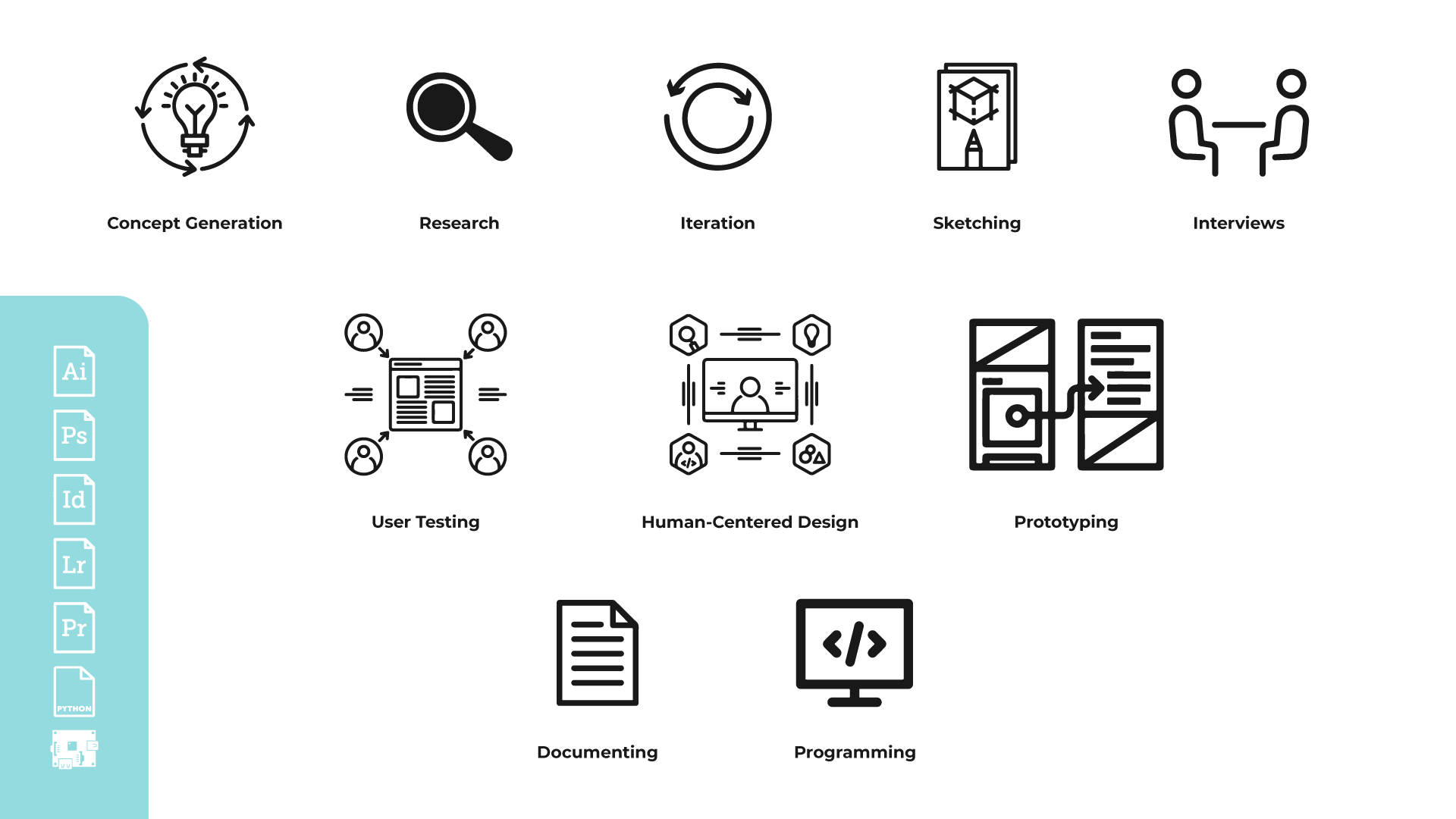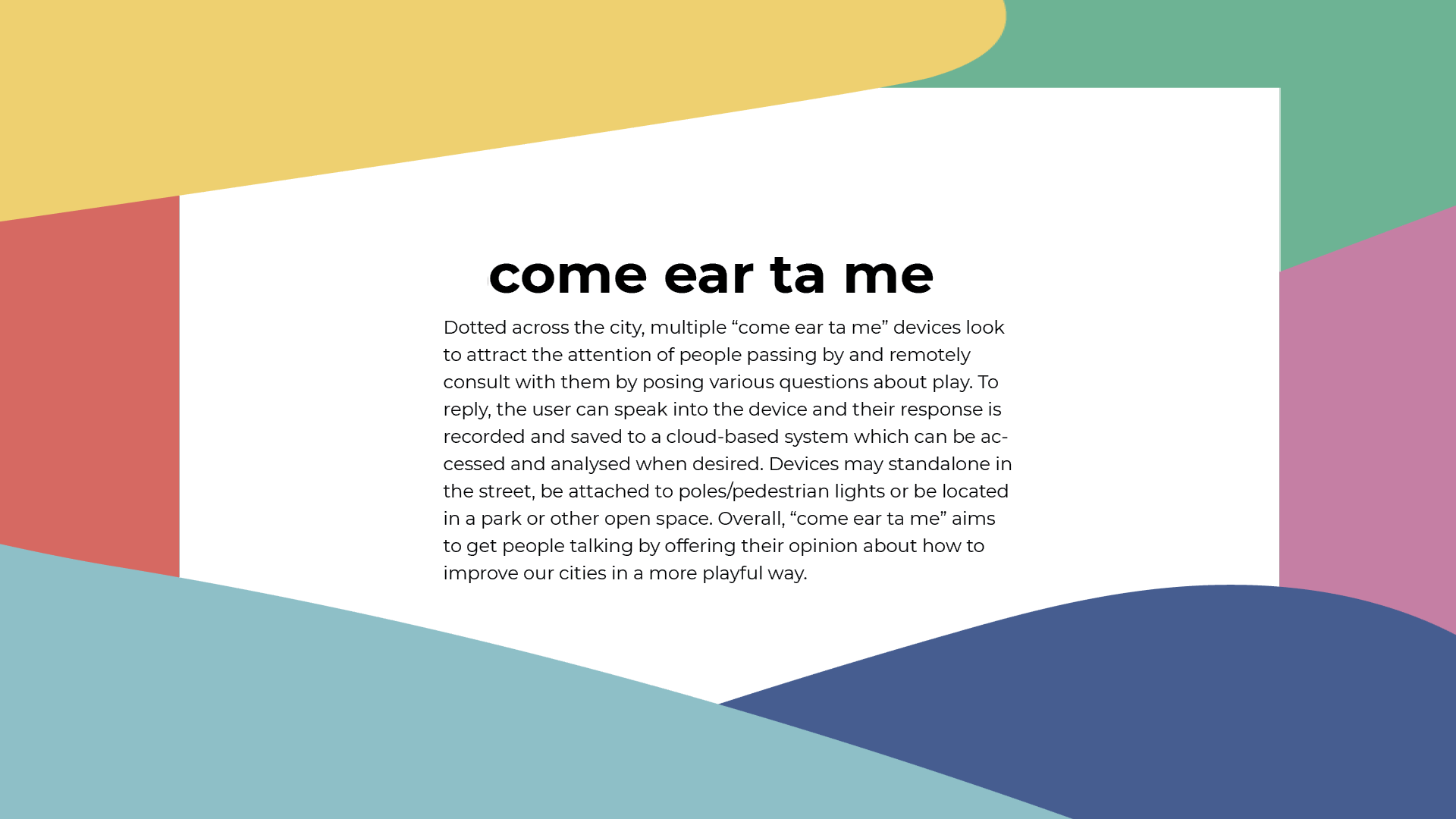 Research
The start of this four week project consisted of our class of fifteen breaking out into 10 different research strands (Smart Cities, Evaluation and Impact, Play Research, What is Consultation?, Local Public Space, Co-Creation, A Playful City Methods, Best Practice Internationally, Corporate Sponsorship, Community Development Attitudes). From there, as a class we came together and synthesized the data collected. 
Our next approach was to divide and conquer by splitting into groups of three under the five concept headings Technology, Play for the Sake of Play, Engaging Teens, Engaging Kids and Spiel Mobile re-design. 
The route I decided to take was technology as I felt it suited my background well. I was partnered with my classmates Matt and Kevin.  Early on we formulated a "how might we".

We each conducted several interviews with friends, family and anybody willing to participate. In addition we conducted an expert interview with the CEO of Perch Dynamic Solutions, They are an Irish furniture and product design firm. 
As a team we generated concepts and built out the forms. From there we broke the tasks down, It was my role to test out the technology(programming/spec requirements) and shoot/edit the videos.
Our initial sketching and ideation lead to many forms. But the three concepts(LandLine, Communi-Tree, Come Ear Ta Me) we decided to lead with all worked around the same idea. This idea was to create a "Whisper Box." A box in which citizens could speak their opinions. These recordings would be saved in order to be played back later. 
LandLine:
As a user would pass, a motion sensor would be triggered and the device would ring. This call to action would stop the user and they would be posed with a question.
Communi-Tree:
An installation piece with hanging domes that would record audio. Along with this installation would be a poster with the posed questions.
Come Ear Ta Me: 
As a user would pass, a motion sensor would be triggered and the device would call out. This call to action would stop the user and they would be posed with a question.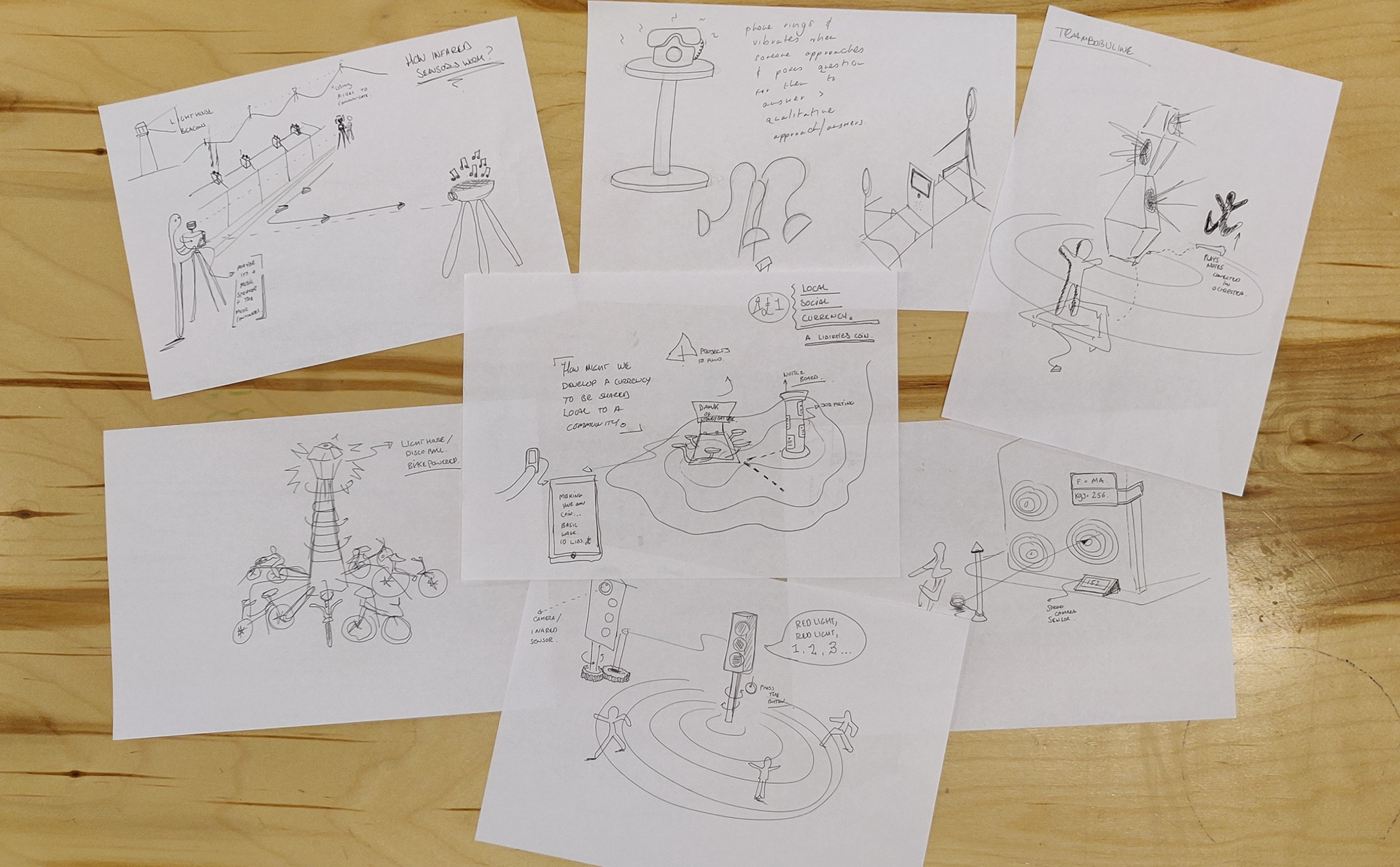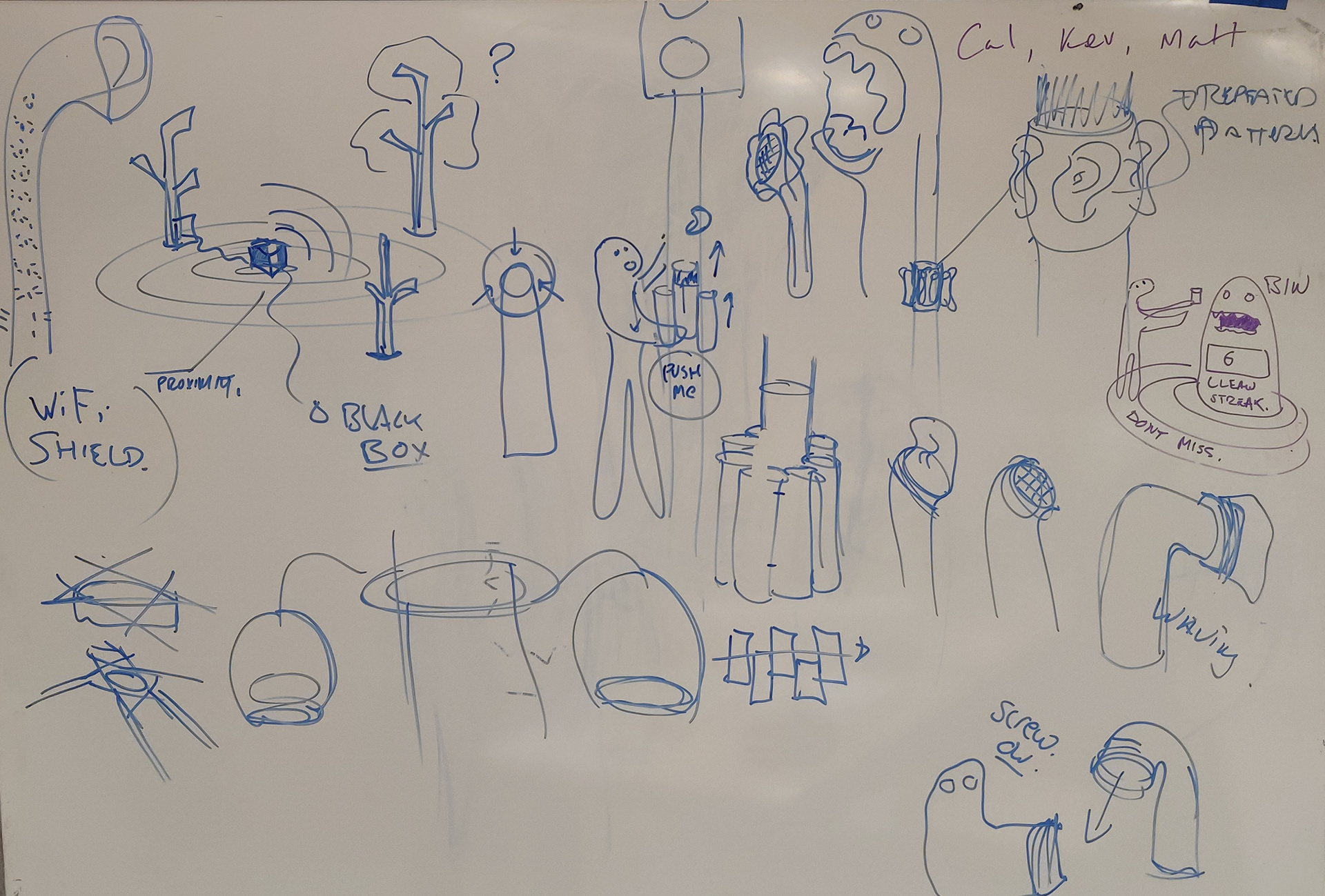 For the first stages of testing we made an experience prototype for each concept. After the initial testing we decided to go with the concept Come Ear Ta Me.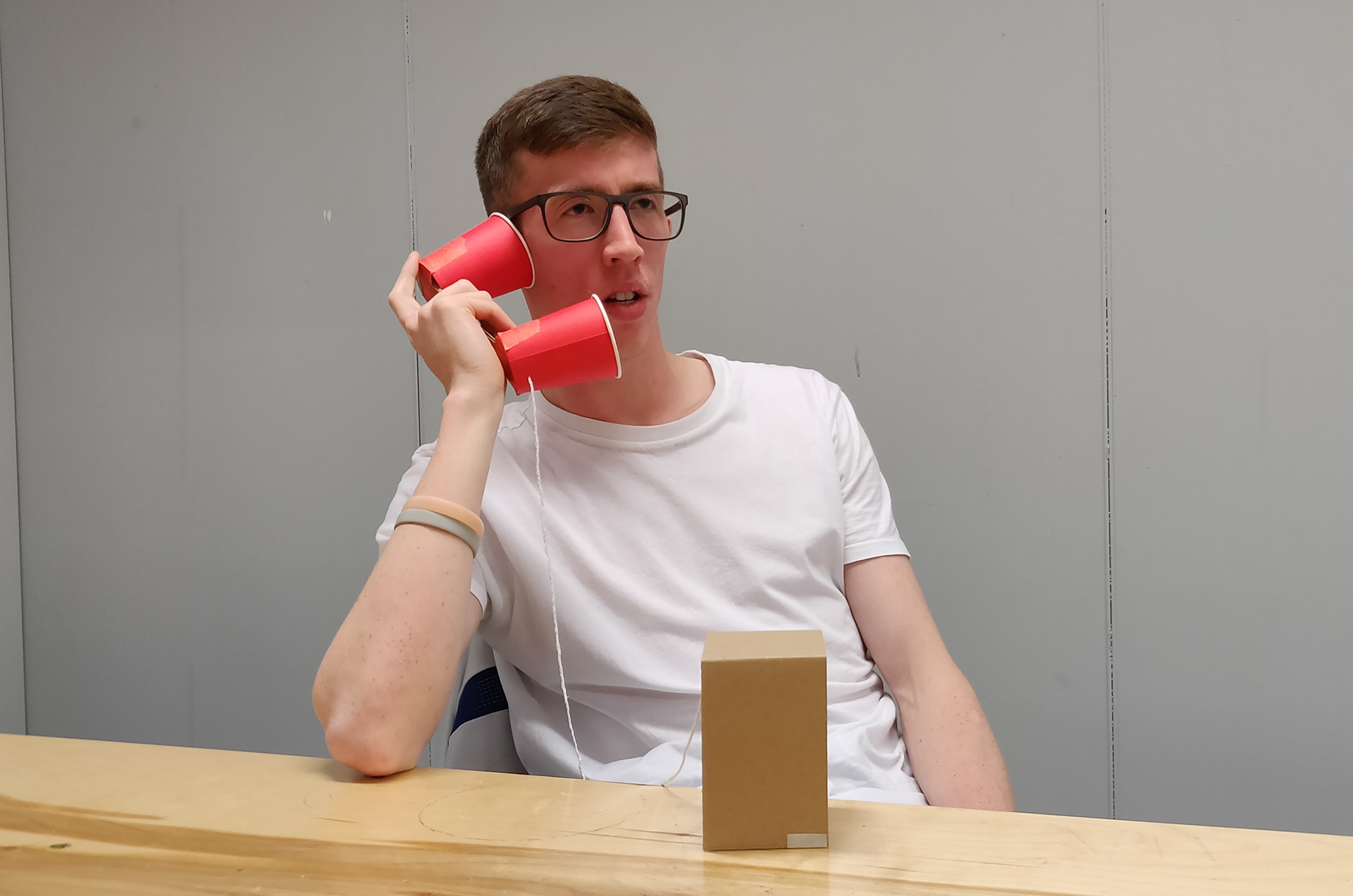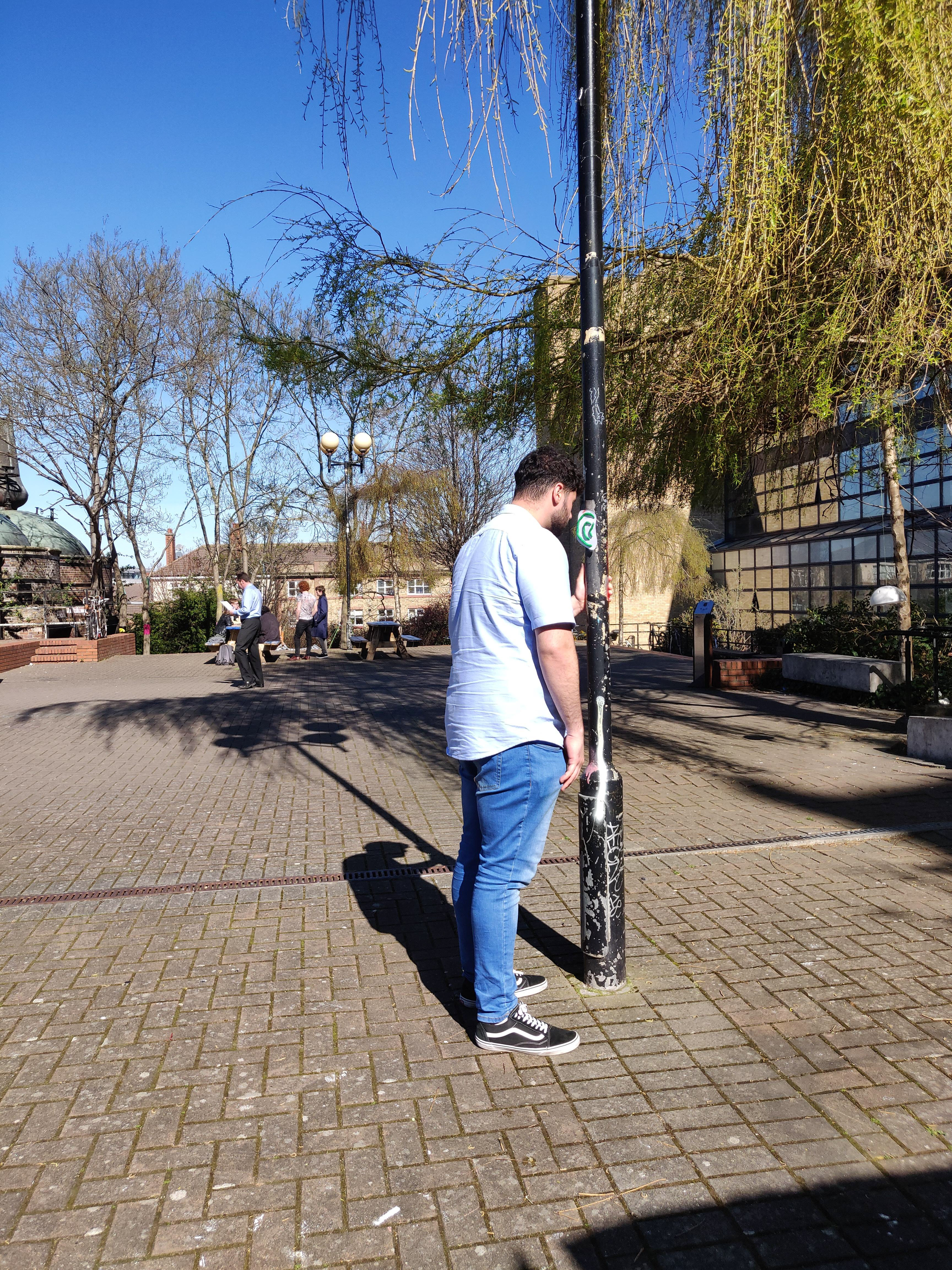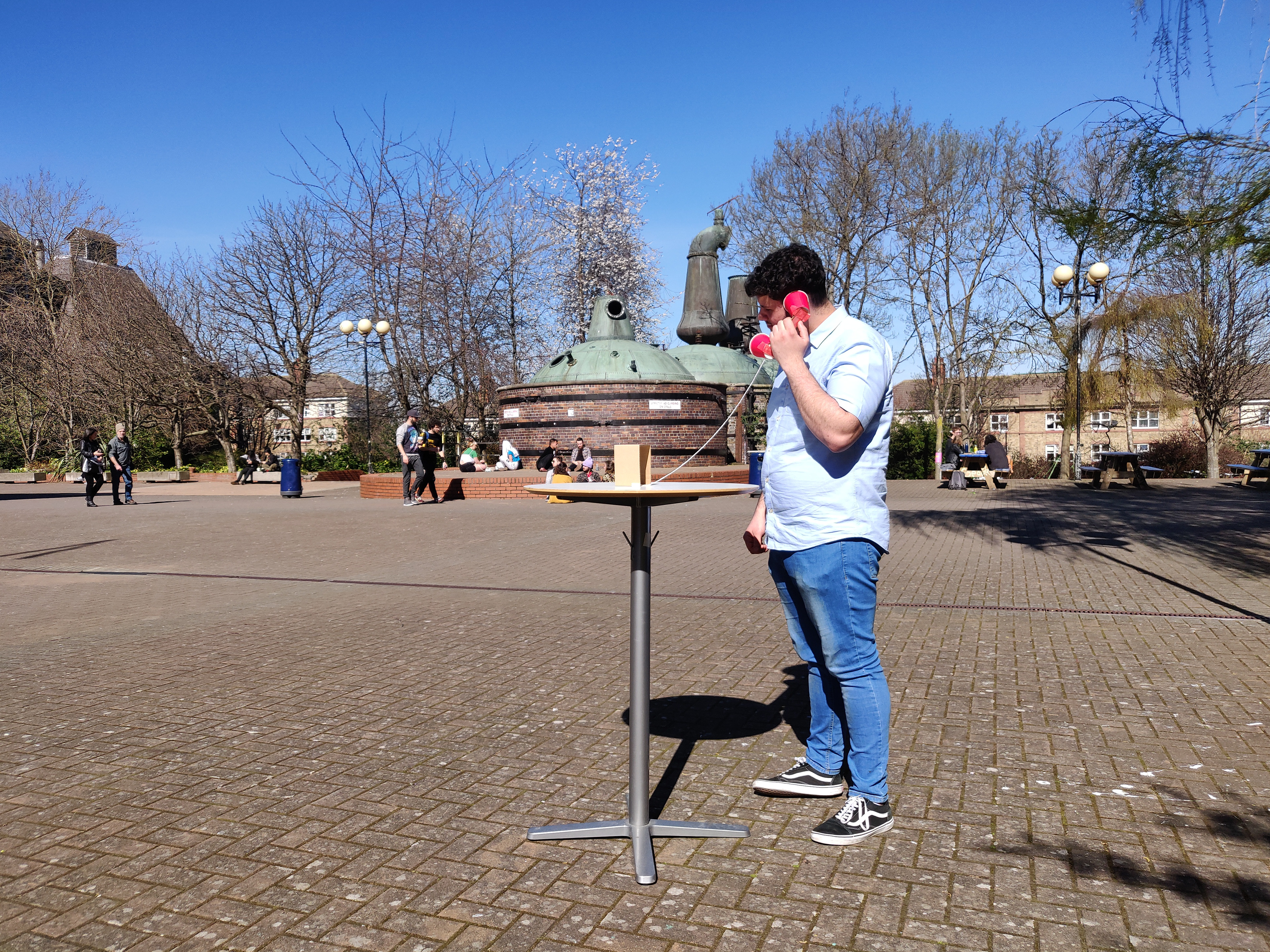 In order to get a sense of the needs for Come Ear Ta Me we decided to use the MoSCow methodology.
Technology
My first steps in delving into the technology was to piece together the Google AIY, which is a DIY Google Home kit. I soon realized the conversational aspect of the kit would not be as useful as I thought. I made the decision to strip back the technology, I then went on testing the Raspberry Pi and wrote some Python scripts in order to record audio.
I came across some useful online resources which told me the PS3 Eye was perfect for plugging in with the Raspberry Pi. I was surprised to find how cheap they were and how well it worked.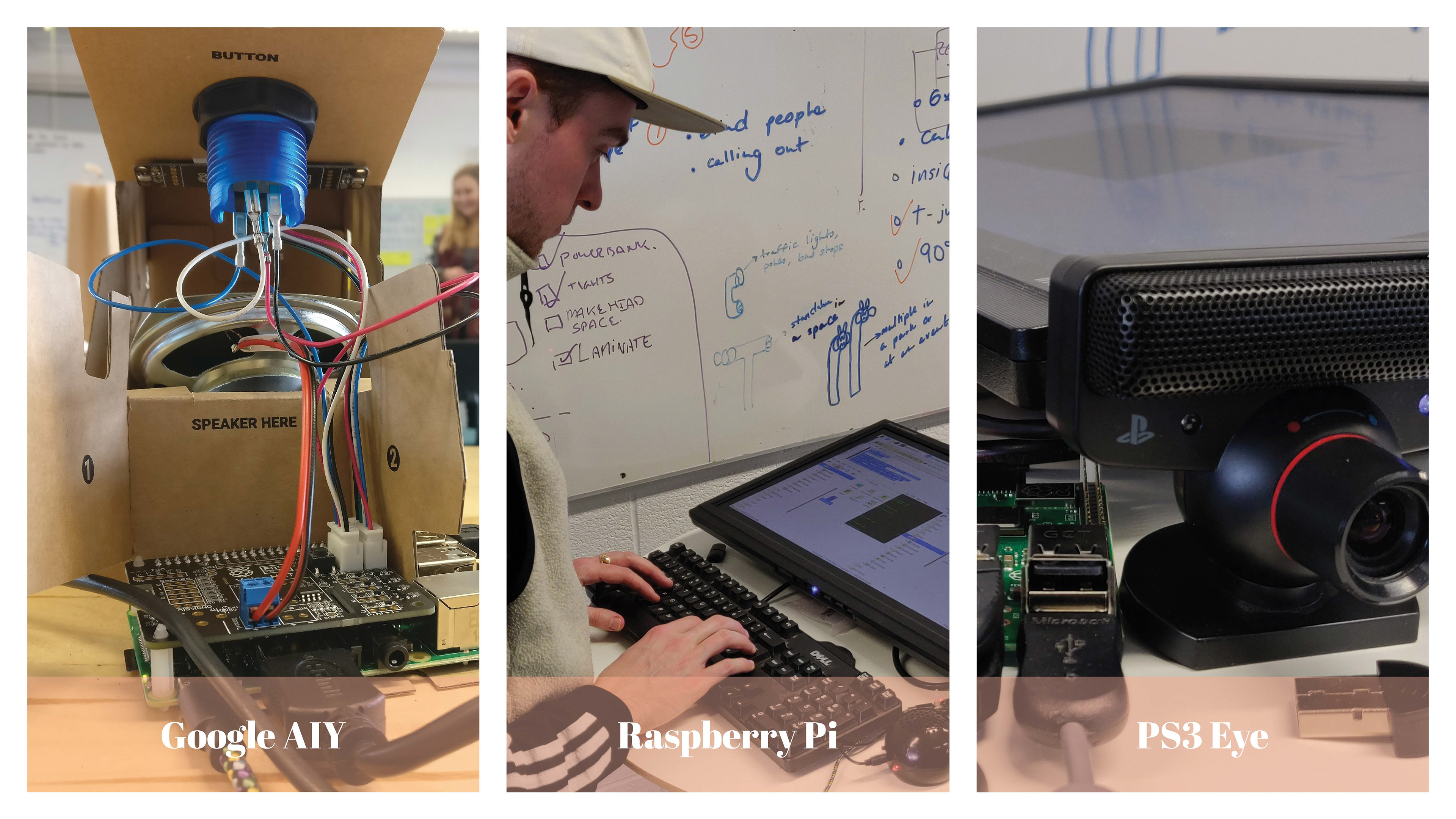 Forms
We decided to create three different forms of Come Ear Ta Me in order to maximize the number of opportunities for remote consultation. An installation which could be set up at an event, a two-way stand placed in the street and a pole fixing which could be placed at traffic lights.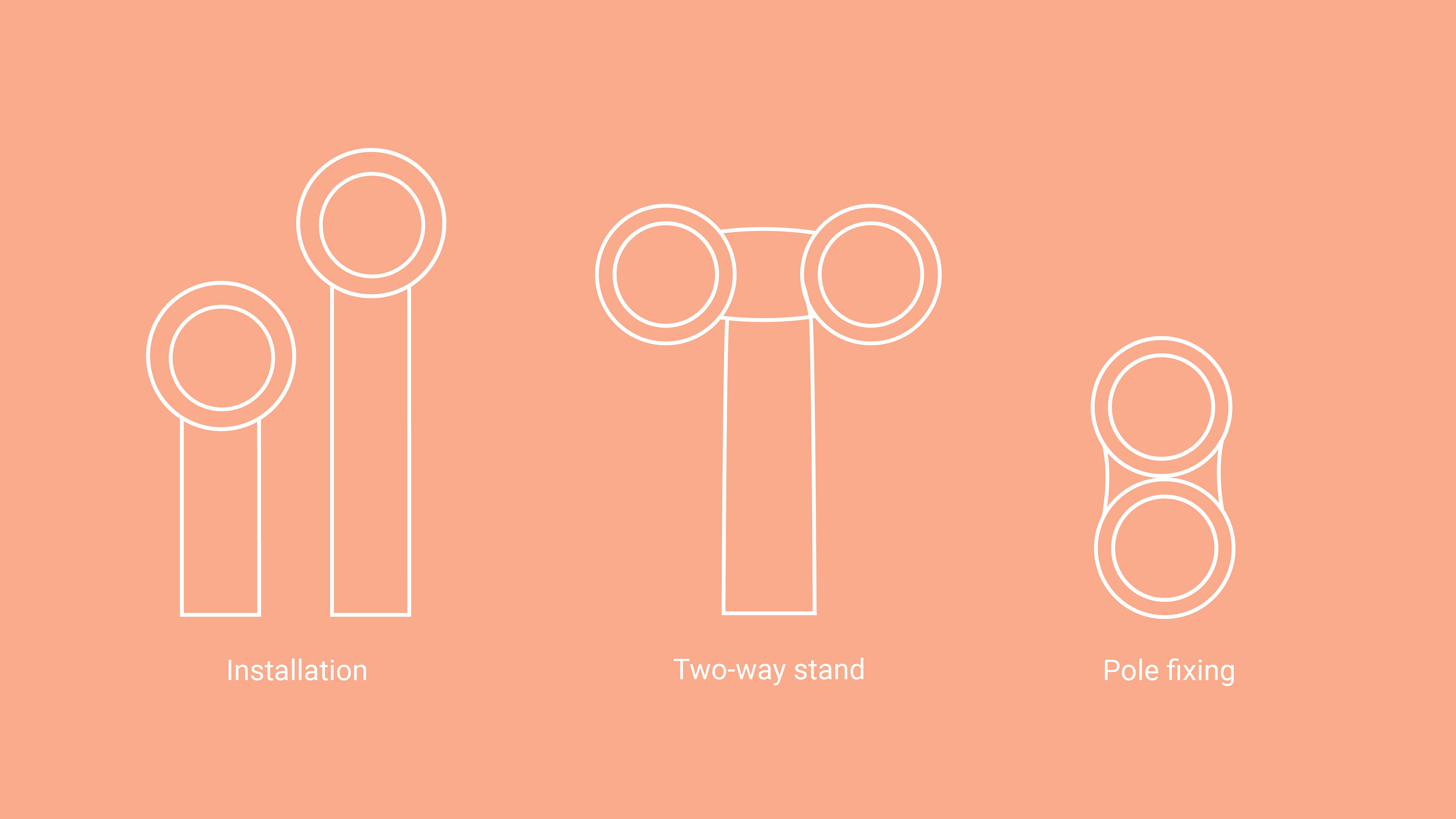 User Testing
Early on in the testing phase we had to think of a creative way to test our forms as we needed to see if people would interact with the device. In order to do this we placed a mobile phone in Come Ear Ta Me and waited down the street. As people passed we called out to them and posed them questions.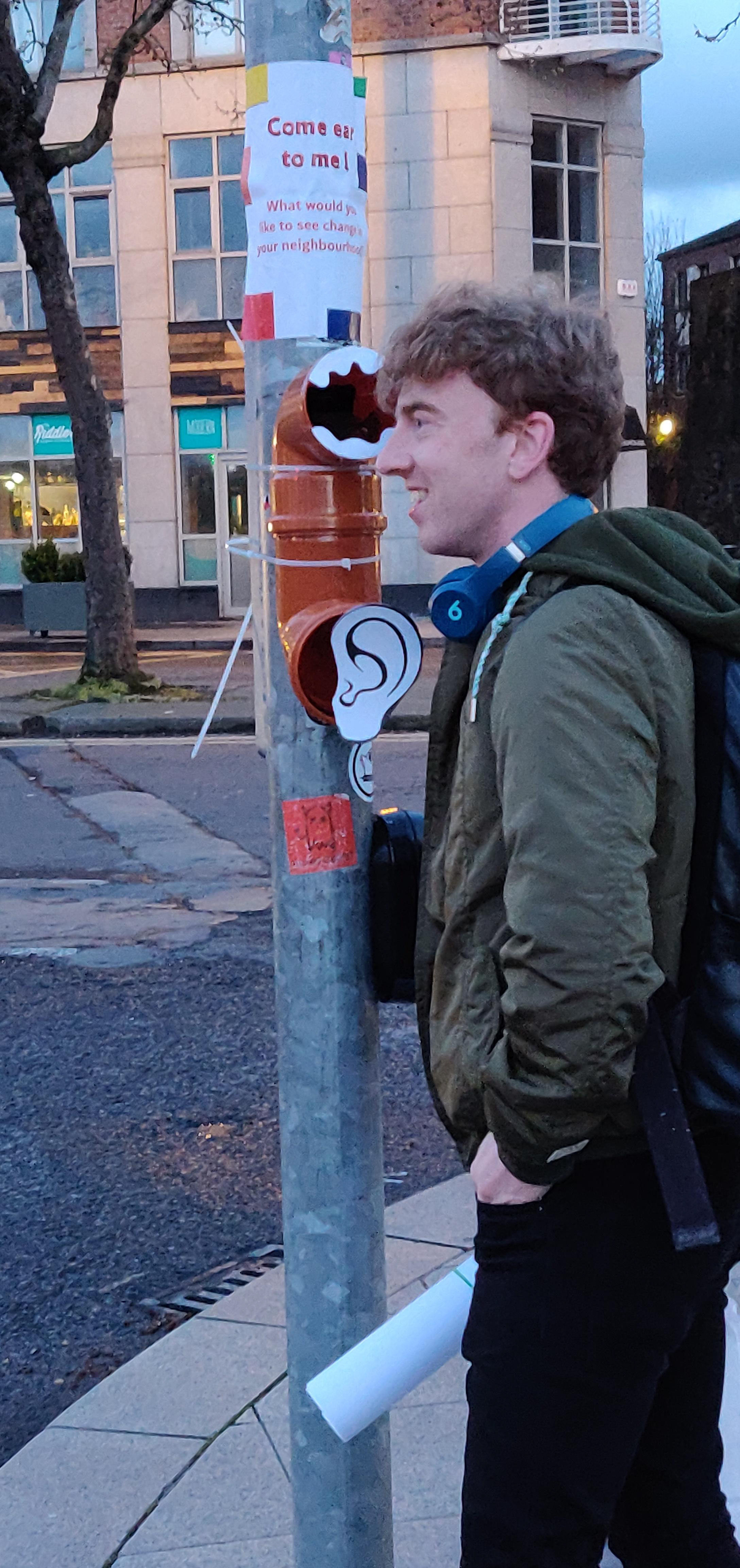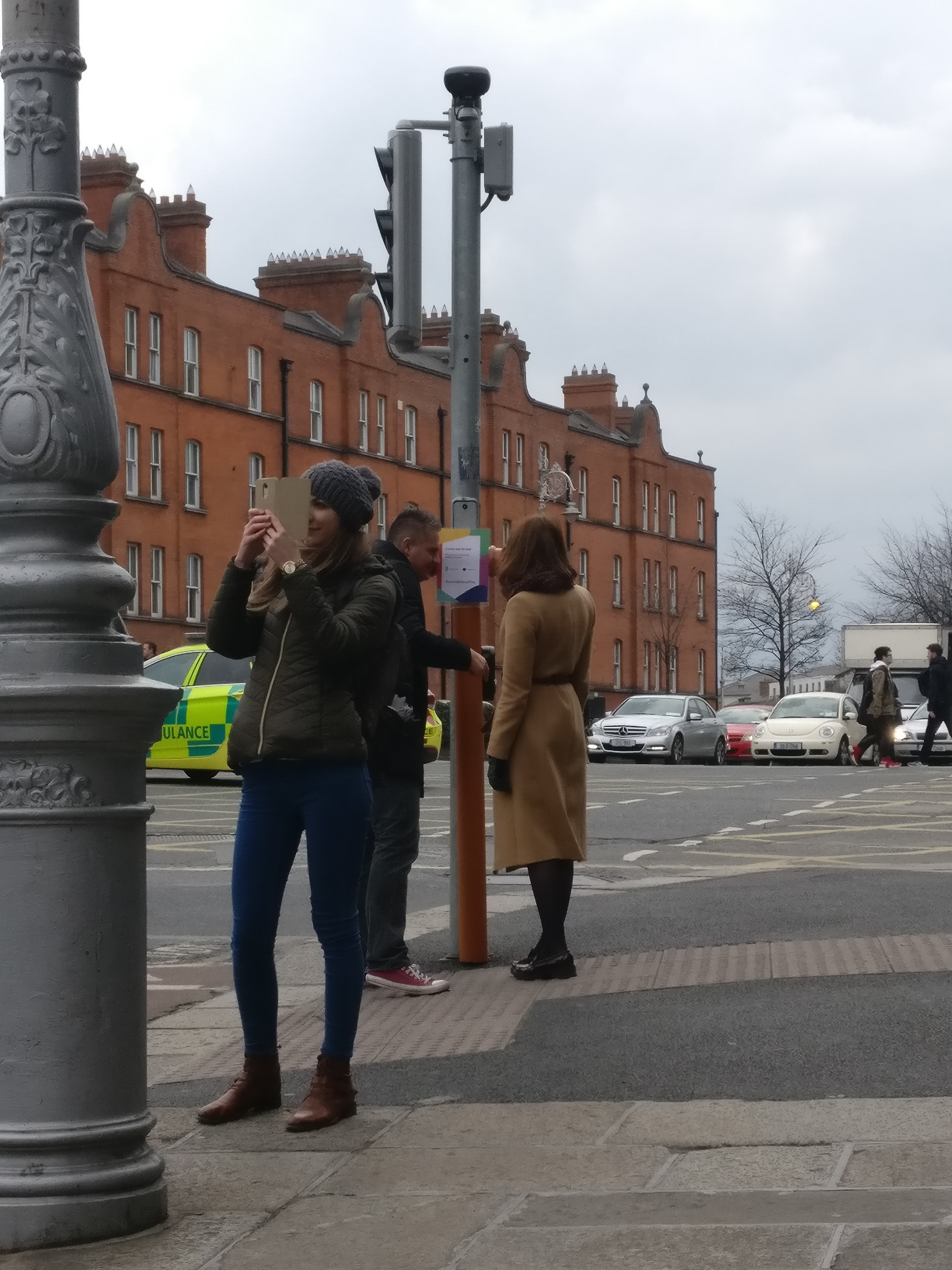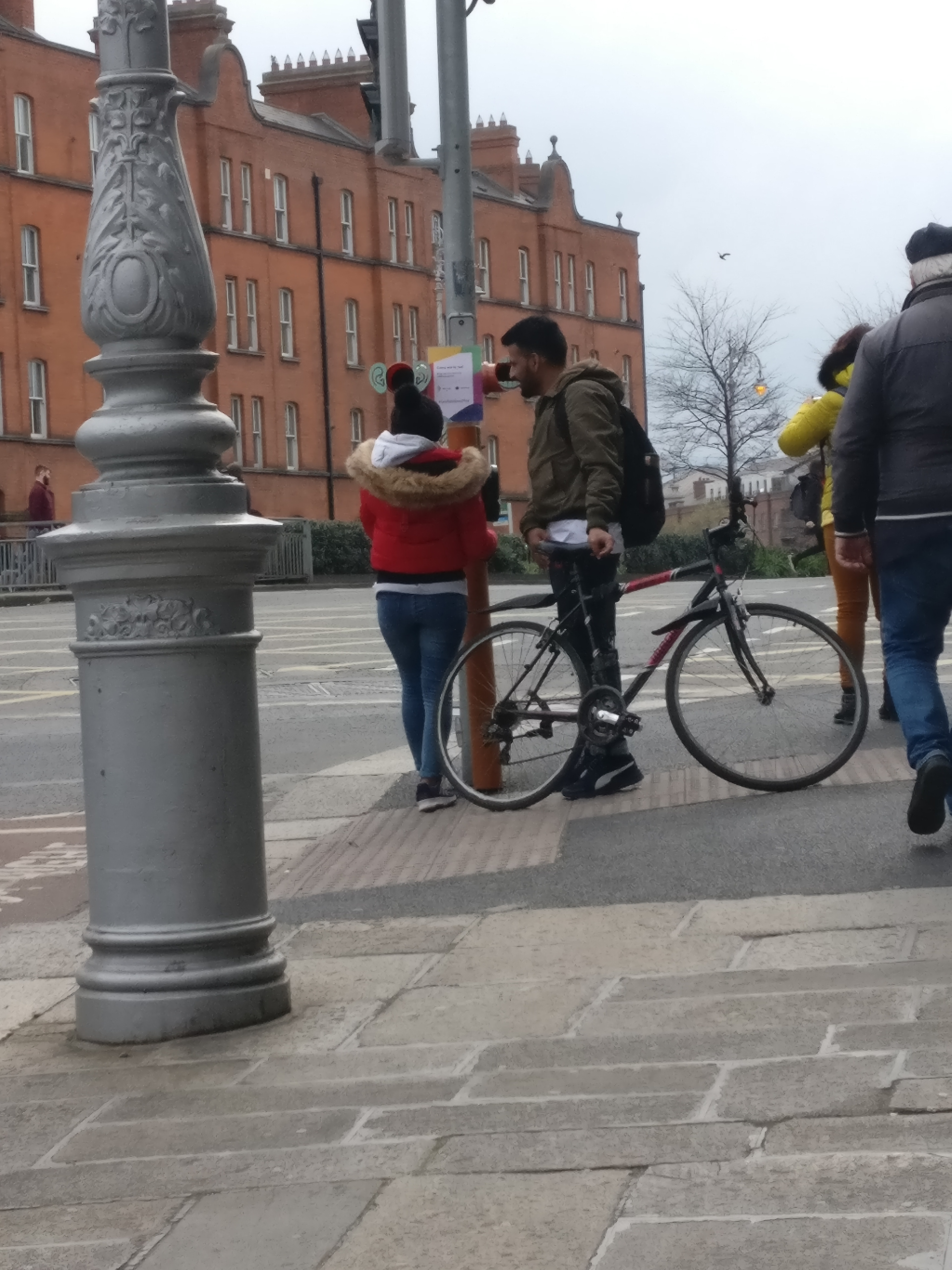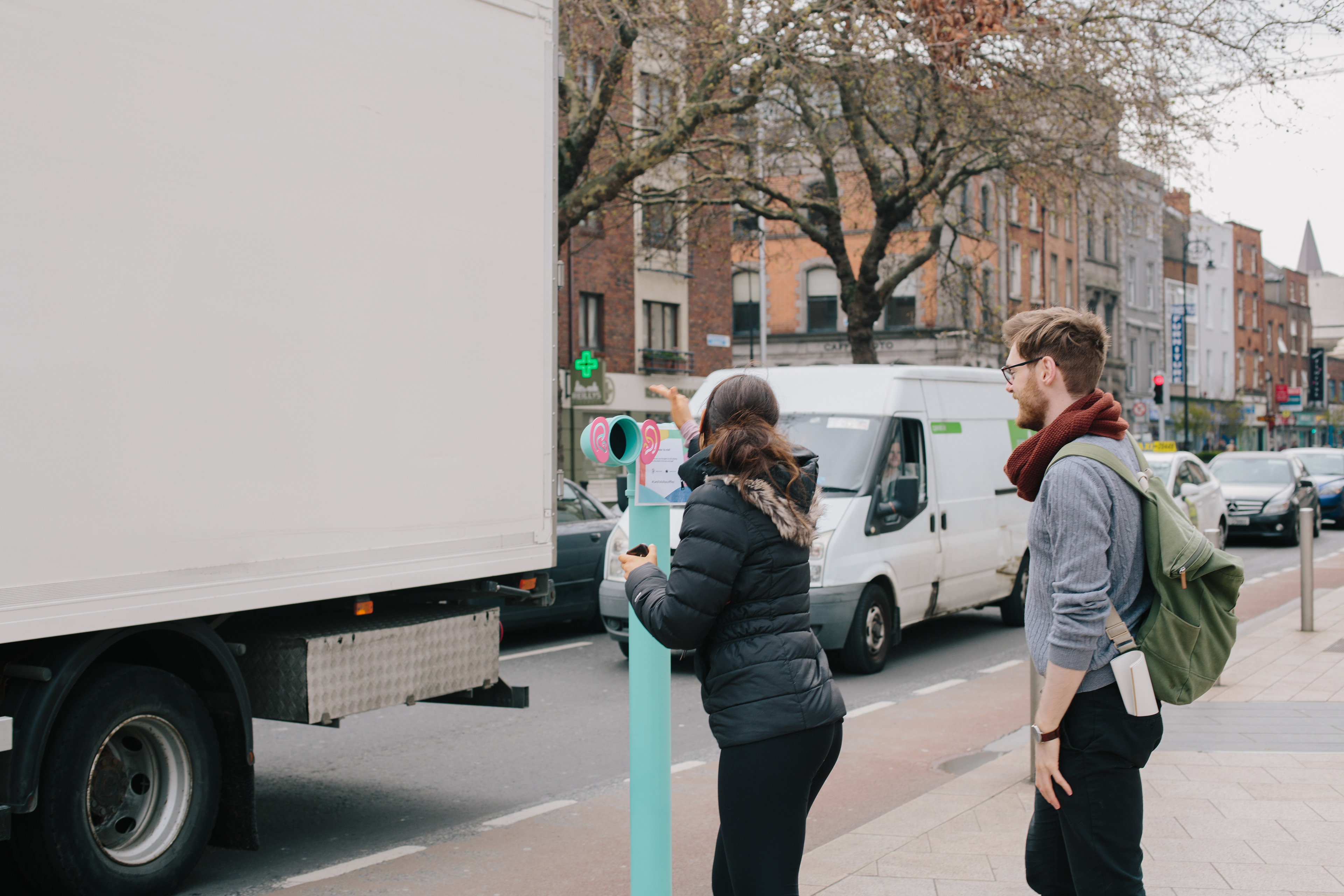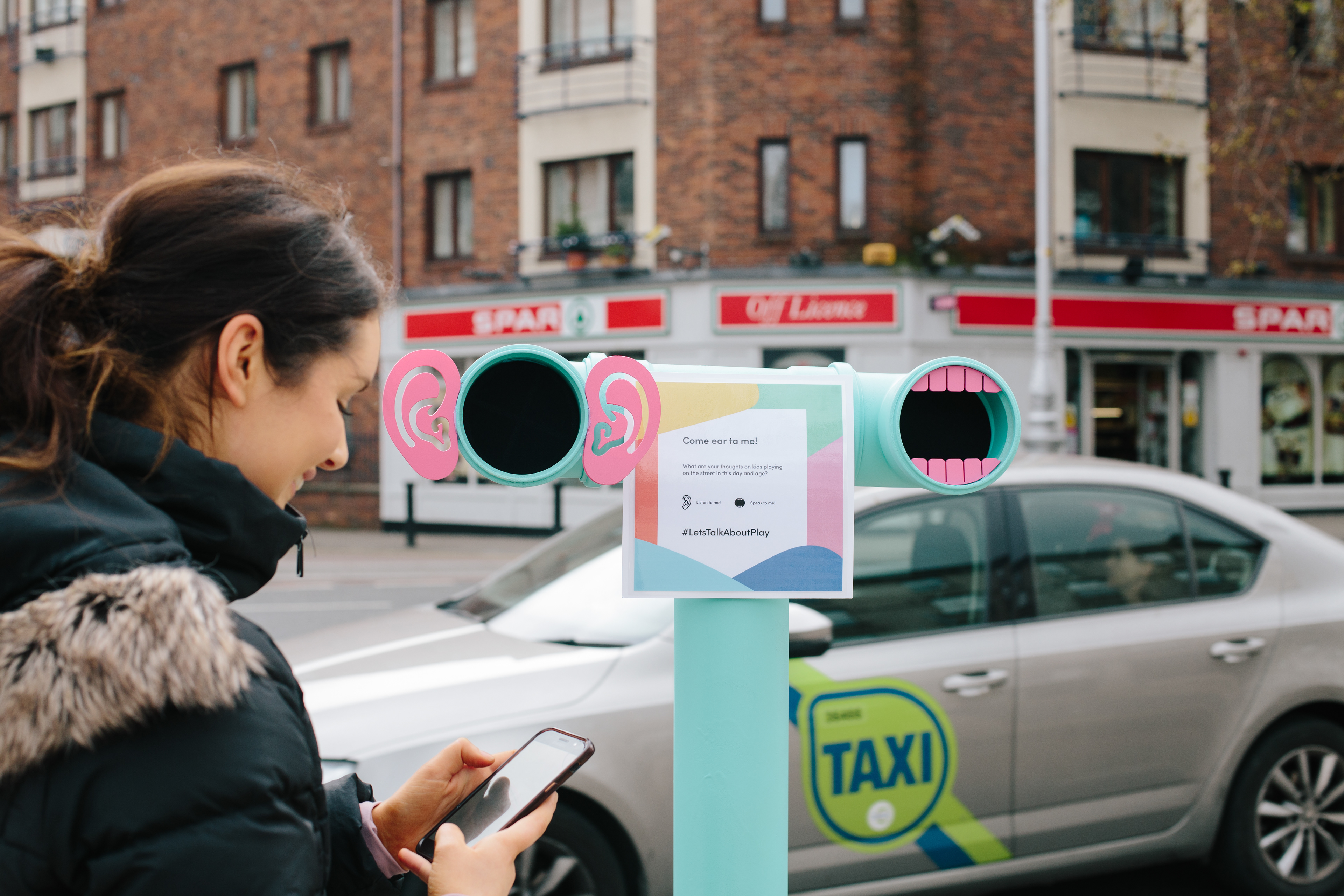 Iteration
We went through many stages of iteration. Constantly testing and re-creating from the insights we gathered. An insight we gathered from a passerby who worked as a physical therapist with visually impaired people, when testing the two-way stand device at a traffic light, was that it was simply too big and a visually impaired person may walk into it. So we came back and decided there needed to be different devices for different situations. We came to the conclusion that the pole fixing device was just right for the situation.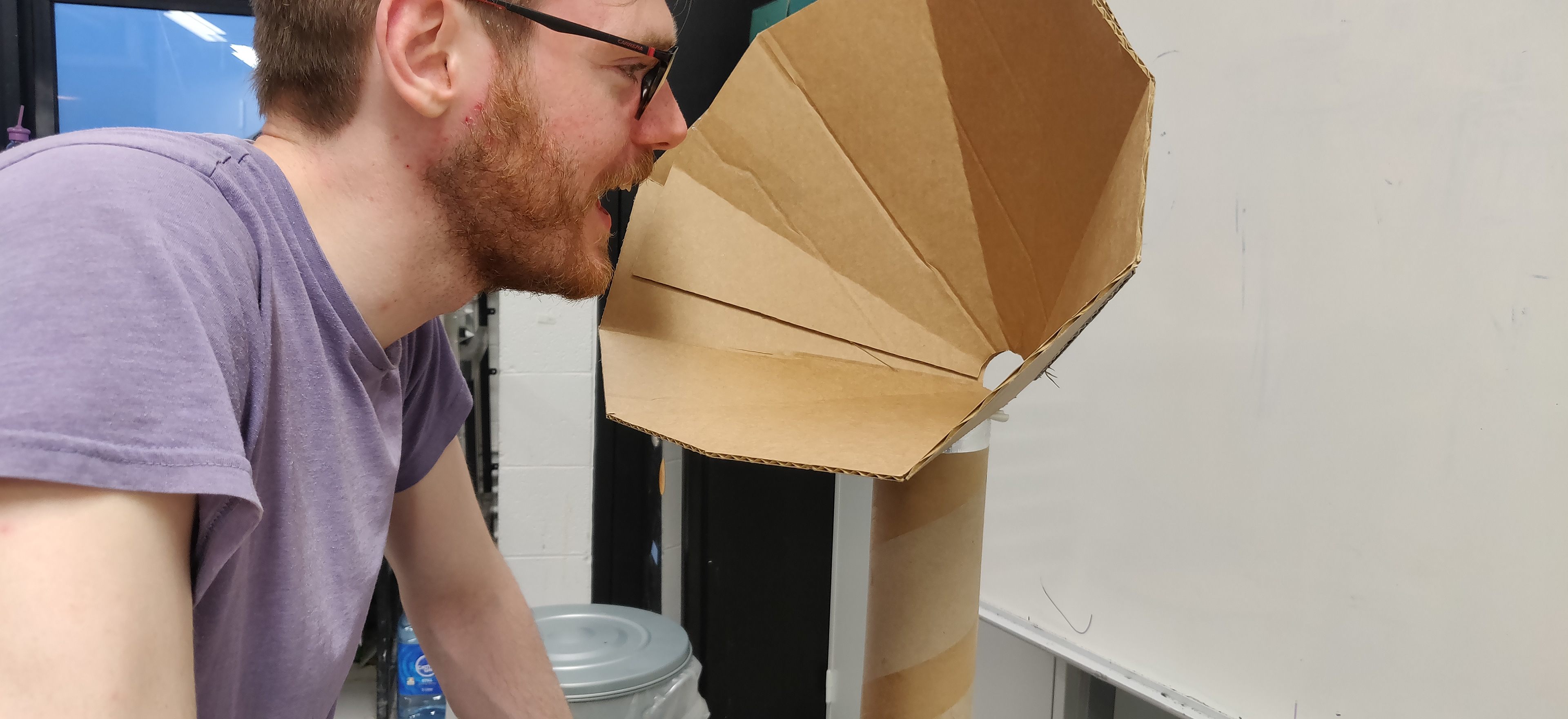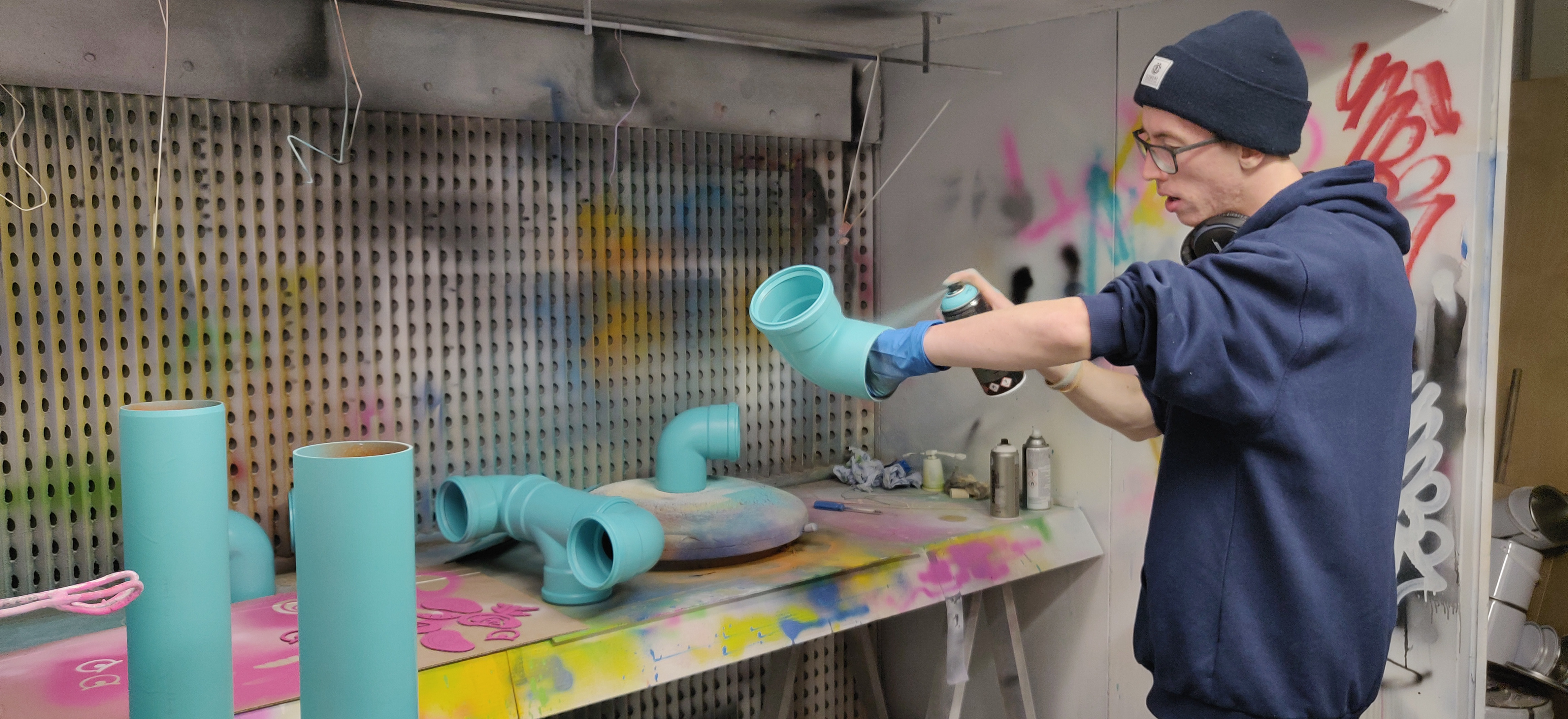 Reflections
Several considerations would need to be taken into account in order for the project to be developed further:
- More devoted time would need to be spent on the tech side of things.
- Social media expansion and development.
- Potentially curating stories into an online, mapped-out storybook.
- Security and fixing of the device and the tech inside.
- Further testing to determine the effectiveness of the device over different time periods.

What did I learn?
Working in a large design team can be hard unless you have the right strategy. The initial phase of research had 15 of us working together, which at the start was chaotic. But once we put a plan in place it allowed us to break into smaller teams of three and conquer the problem in an innovative way.
One of the biggest takeaways for me was that people are a lot more open with inanimate objects. It may sound a bit odd but in reality it makes sense. Through the use of anthropomorphism applied to our devices it showed in the research that people would speak more openly about their problems within the community. This issue was raised from A Playful City from the start, that they felt all of the workshops and interview sessions never really gathered much information. There could be many reasons for this like embarrassment or being of a private disposition.